Rivoli Theatre History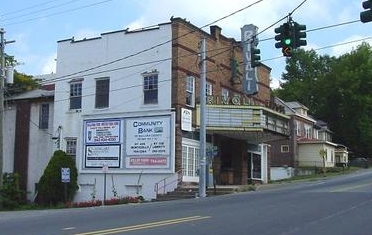 The original building on the Rivoli site was built in 1910. This building's original foundation is under the northeast corner of the present Rivoli.
The present Rivoli Theatre is the product of two distinct building phases. The original was constructed in 1923.
Although its design has been attributed to Israel Kaplan and his son Arch, recent research suggests that Emil Motl, who was responsible for 1937 remodel, was also the architect of the original building. Therefore, an expansion and remodel were done in 1937.
The 1923 marquee was a simple iron canopy with decorative metal cresting and opaque glass tiles. In 1937, this was replaced (or concealed) by a square neon sign with an elaborate decorative crest. The current marquee is a three-sided sign dating to the 1950s. Metal chains carried all three signs, and the contemporary ones may be the originals. The sizeable vertical neon sign is original.
The recessed entrance also reflects two construction phases. The original ticket booth was rectangular and projected a considerable distance into the foyer. It was of wood construction and embellished with opaque glass tiles. The entrance doors were of multi-pane glass, and the walls were divided into panels, some doubling as poster frames. The 1937 foyer, which is intact today, has a tiled floor and enameled and chrome siding.
The lobby and lounge retain their original spatial configurations but are finished in non-historic materials.
The auditorium was constructed in two stages. The original space was 124 feet long, and its decorative scheme is unknown. In 1937, a 36-foot addition was added to the rear accommodating six additional rows and a stage. At the same time, the auditorium was completely redecorated in the Art Deco style. The 1937 scheme for the auditorium is entirely intact.
The Rivoli was purchased in 1998 by the Sullivan County Dramatic Workshop. Seats were removed to accommodate a larger stage, and new heating and cooling systems were installed. Recently, a sound and lighting booth was constructed along with dressing rooms and additional restrooms.
The theater is listed with the National Register of Historic Places and National Historic Landmarks.  The application was approved on January 26, 2001.
You can view the listing/registration document at:  https://catalog.archives.gov/id/75322403
or download the PDF file at:  http://dev.scdw.net/wp-content/uploads/RivoliTheater_NationalHistoricLandmark.pdf