2024 NYS Lottery Raffle
It's that time of year again. The temperatures begin to drop. The feeling of snow is in the air. Visions of sugarplums dance in your head. AND SCDW'S ANNUAL NEW YORK STATE RAFFLE RETURNS!
Here's your chance to support SCDW's ongoing repairs to the historic Rivoli Theatre…AND get 31 chances to win money. Your purchase of a $10 raffle ticket comes with a three-digit number between 000 and 999. If that number comes up as the evening Numbers drawing during the month of January 2024, you win the money for that day – between $25 and $100 dollars. Since there are 31 drawings in January you could win 31 times, and all for just $10!
BUT THAT'S NOT ALL! Your raffle ticket gets you a free ticket to any SCDW show in 2024 (or $10 off the 2024 musical – The Wizard of Oz). Hang on to your raffle ticket and present it at the box office for your free ticket or $10 off our musical – THE WIZARD OF OZ!!
All the money collected goes toward needed repairs for the theatre, and to support our annual SCDW Theatre Scholarship program supporting our young actors as they go off to college.
Be sure to include your name, email address, phone number (so we can call you when you win) and your favorite number if you have one. (NO favorite number? No prob, we'll send you a random number).
P.S. At $10 each, these make great stocking stuffers, Hanukkah gifts, and secret Santa presents. Buy one for everyone you know!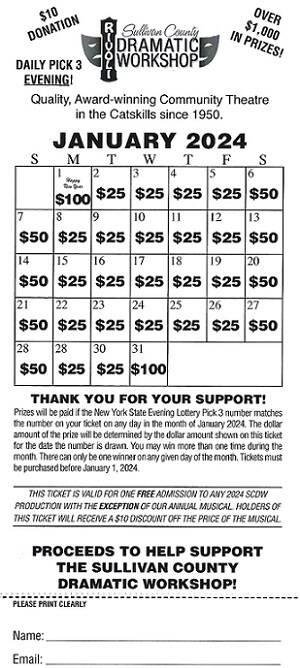 Get Tickets at  2024 NYS Lottery (link to My River Tickets)
Direct Link  https://myrivertickets.com/events/2024-nys-lottery-raffle-8-30-2023